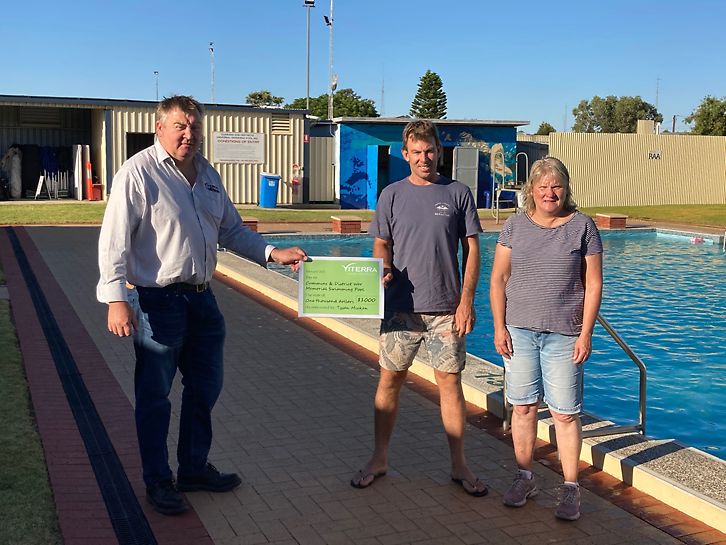 Viterra has donated $2000 to the Cummins and District War Memorial Swimming Pool and Navigator College Port Lincoln, on behalf of Eyre Peninsula grain growers who nominated the groups when completing a recent postharvest survey competition.
Tysan Mickan and Kingsley MacDonald are two of three winners to receive $1000 each for a community group of their choice.
Viterra Western region Operations Manager Nick Pratt says the annual survey plays an important part in the business' postharvest review.
"Our focus is to ensure that the needs of our customers are being met each year and that we continue to invest and make improvements where it provides benefit to them," Nick says.
"The survey enables us to gather feedback on our operations, services, online platforms and other areas. We then use the results to have further discussions with our grower committees so we have an even greater understanding about areas to focus on for the following harvest."
Growers' responses showed they valued Viterra's new warehouse to cash service, with the majority of users saying it made it easier to transfer grain to a cash price and added value to their business.
Viterra also received positive feedback on opening hours, classification, segregations and communications.
The survey is also a great opportunity to provide further support to regional communities where it operates and the majority of its employees and customers live and work. Nick says it's fantastic to support two groups who play big roles in their community, especially in their support and work for children.
Winning grower Tysan says it was awesome to have won and see the money go to his local pool.
"The Cummins pool is a great facility for the community which can sometimes be taken for granted but would be missed if it wasn't around. Learning to swim is such an important life skill. I learnt to swim at this pool and now we're starting to take our young children here, which is really nice," Tysan says.
Treasurer of the Cummins and District War Memorial Swimming Pool, Ingrid Kennerley, says the volunteer-run facility has found it difficult to raise funds over the past year.
"We really appreciate the donation from Viterra, and Tysan for nominating us. The money will go towards a chemical workshop shed which will give our pool operator a safer environment for maintenance work," Ingrid says.
The second winning grower on the Eyre Peninsula, Kingsley MacDonald, is the College Vice Chairperson at Navigator College Port Lincoln and says the donation will go towards a new study and recreational area for year 11 and 12 students.
"Navigator College was founded nearly 16 years ago, with the aim of bringing high quality secondary education to the Eyre Peninsula, so parents didn't have to send their children to private schools located a long distance from home," Kingsley says.
"We're very grateful to Viterra for the donation and I appreciate all that they do for growers on the Eyre Peninsula. I think the survey is a great way for them to communicate with growers and I encourage everyone to take the time to provide their feedback."
The Waterloo District War Memorial Association at Waterloo also received a $1000 donation from Viterra.
A summary of results from the postharvest survey are available on our website.
Preparations are underway for the 2021/22 harvest and Viterra remains busy meeting strong demand for South Australian grain, which is being outturned for domestic and international customers through its supply chains.