Viterra is a large contributor to communities where we operate.
We are a major employer, with most of our employees living and working in regional areas. Where possible, we use local contractors and suppliers for our capital and maintenance projects which provide flow-on contributions for local business and economies. As a company we support many initiatives that benefit regional communities.
Supporting bushfire affected landholders
Following the devastating impact of the 2019/20 bushfires across South Australia, Viterra partnered with BlazeAid and Trees For Life to help fire affected communities rebuild and restore their land.
Many of our employees, contractors and customers live and work in regional South Australia and we understand recovery from natural disasters lasts for many months and years.
BlazeAid deploys trailers filled with tools and equipment to fire affected communities to help rebuild fencing and other fire damaged structures, and Trees For Life is focused on the long term regeneration of trees and bushland to support communities.
Viterra first worked with BlazeAid and Trees For Life following the 2015 Pinery bushfires in South Australia with a contribution made on behalf of the business and South Australian growers.
Viterra also stores BlazeAid's trailer fleet in a secure and undercover area, and in 2020, donated funds for the purchase of additional trailers. Each trailer allows an additional ten volunteers to be deployed to affected areas.
Our partnership with Trees For Life provided landholders directly affected by the 2019/20 bushfires with access to seedlings, tree guards and stakes through their Tree Scheme with a 50% discount to help restore land.
We wish all landholders all the best in recovery efforts going forward.
Read more on our partnerships in Viterra steps up bushfire recovery effort to help SA landholders and Viterra supports fire affected Yorke Peninsula rebuild.
Silo art
Viterra is proud to support silo art initiatives in the regional communities where we operate. We give in kind support and work closely with the local community group and/or council throughout the project while providing our silos as canvases.
Coonalpyn
In 2017, our Coonalpyn silos were painted in what was the first South Australian silo art project. Painted by Australian large-scale artist Guido Van Helten, the artwork depicts five local Coonalpyn Primary School children to represent the town's future. The project was coordinated by the Coorong District Council as a part of the wider 'Creating Coonalpyn' project.
Awards:
Award of Merit – Australian Civic Trust Awards 2019
Kimba
The Kimba silos were completed in late 2017. Australian mural artist Cam Scale transformed the silos with a mural of a child and sunset landscape. Organised by the Igniting Kimba Working Group, the project was part of the 'Igniting Kimba Arts Program.'
Awards:
Finalist for 2020 Best Mega Mural – Australian Street Art Awards 2020
Award of Merit – Australian Civic Trust Awards 2019
Sustainable Communities Award (Best Medium Town) – KESAB Awards 2017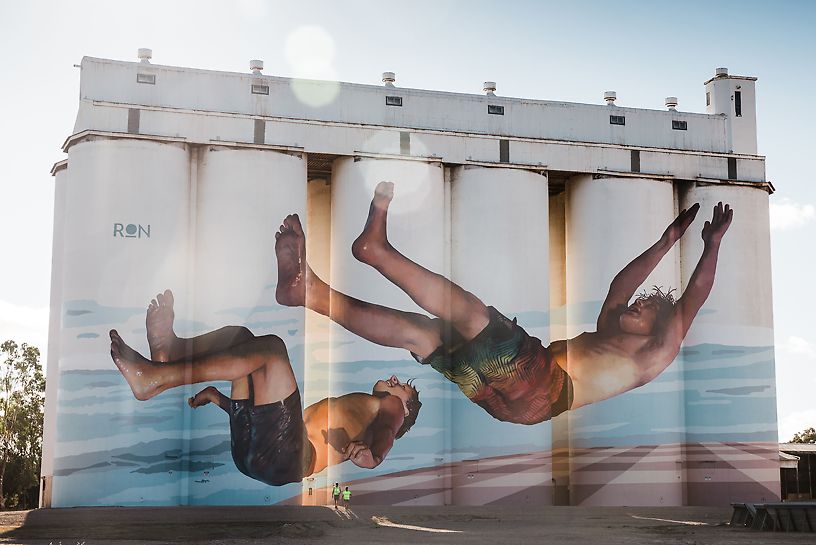 Tumby Bay
As part of the 'Colour Tumby Street Art Festival' in 2018, the Tumby Bay Progress Association commissioned Argentinian street artist, Martin Ron to paint the local silos. The mural is of two children jetty jumping, a common past time in the town.
Awards:
Award of Merit – Australian Civic Trust Awards 2019
Winner in the Best Street Art Festival or Event – Australian Street Art Awards 2019
Finalist in the Best Mega Mural category – Australian Street Art Awards 2019
People's Choice Award – 2018 Brand SA Regional Showcase
Wirrabara
Proposed by the Wirrabara Tourism & Development Group and organised by the District Council of Mt Remarkable, the Wirrabara silos were painted in late 2018 by Australian realist artist, Smug (Sam Bates). The mural depicts the town's strong ties to the forestry industry as well as the local flora and fauna.
Awards:
Award of Merit – Australian Civic Trust Awards 2019
Waikerie
The first silo to have two different artists paint a block each, the artwork came to fruition thanks to the Nature Foundation SA along with the local community. Local artist, Garry Duncan and Melbourne artist, Jimmy DVate depicted their interpretation of the theme, Healthy River Healthy Community. Since its completion, Viterra has gifted the silos to the District Council of Loxton Waikerie to enable further development of the site as a local precinct for the community.
Awards:
Award of Merit – Australian Civic Trust Awards 2019
Karoonda
The first of its kind in Australia, the Karoonda silos feature both a painted mural visible during the day and a permanent projection display at night. Organised by the District Council of Karoonda East Murray, Mongolian/Australian artist Heesco painted the silos which feature local Mallee characters Whiskey the kelpie and Diamond the sheep.
Awards:
Best of the best winner – Australian Street Art Awards 2020
Award of Merit – Australian Civic Trust Awards 2019
Silver winner (Colour Up Karoonda) – South Australian Tourism Awards 2019
Nomination of Best Local Landmark – 5MU Simply The Best Award 2019
Cowell
In September 2019, New Zealand/Australian artist Austin 'NITSUA' Moncrieff worked with the Franklin Harbour Community Development Group to paint Viterra's Cowell silos. The mural features local man Lionel Deer and his pet camel as well as a local Port Lincoln parrot and a nearby farmhouse ruin.
Awards:
People's Choice – Australian Civic Trust Awards 2019

Quorn
Opened in April 2020, the Quorn silos are decorated with illuminated artwork each night which plays a sequence of animated stories reflecting the region's history. The illumination is run by Illuminart and artwork includes pieces from local artists and photographers.
Awards:
Silver for 2020 Best Mega Mural – Australian Street Art Awards 2020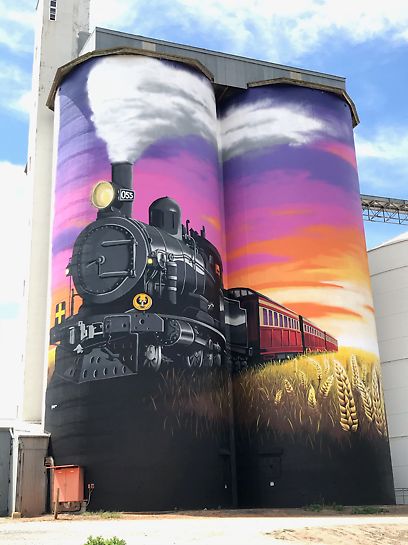 Farrell Flat
The Farrell Flat mural was completed in November 2020 and organised by the Farrell Flat Management Committee with funding from the Australian Government's Drought Communities Programme and support from the Regional Council of Goyder. The silos were painted by local South Australian artists Jarrod Soden and Matthew Knights of Perplswet Designs, and feature a colourful sunset with a train – a nod to the town's history.
Owen
The tenth silo art project in our network completed in April 2021 on our Owen silos.
The project was organised by the Owen Community Centre Silo Art Committee and designed by artist Robert 'Alf' Hannaford who was assisted by artist Cam Scale. Titled 'Wheat bags to sand bags,' the artwork depicts two scenes and is an ode to the town's agricultural and military history.
The first scene is of harvest around Owen in 1914 with men loading wheat bags onto the dray being pulled by a team of draught horses, the second scene is a year later in Gallipoli during the war, and shows men from the town filling sand bags in the trenches.
Viterra is open to working with other regional communities on silo art projects. If you have questions about the silo art process and policies, please contact Kelly Cummings for more information via kelly.cummings@viterra.com or (08) 8304 5103.
Sponsorship and donation requests
Viterra is committed to supporting the regional communities in which we operate, through sponsorship and support for a range of grower groups, local community organisations and charities.
Our involvement in the grower community includes supporting the South Australian No-Till Farming Association (SANTFA), the MacKillop Farm Management Group (MFMG), Monarto Ag Bureau, South Australian Durum Growers Association (SADGA) and HART.
Viterra supports employee involvement in emergency service organisations by providing leave for employees who volunteer and participate in emergency situations and activities.
Viterra will consider sponsorship and donation requests that support the sustainability of the communities and industries in which we operate. Please send all relevant information to sponsorships@viterra.com. Please provide a reasonable timeframe for requests to be considered.
In most cases, sponsorships which include any of the following will not be considered:
activities that should be the responsibility, for the most part, of government at any level
are promoted by political or religious organisations, or that are religious or political in nature
are for other charities, foundations or general appeals and lotteries
are for individuals, including Viterra employees
are run by organisations or groups who discriminate or limit membership based on race, gender, beliefs, class or cultural considerations.
Our approach to human rights
Our approach includes our code of conduct, human rights policy and global anti-corruption policy. We also have a raising concerns programme, whistleblowing policy and compliance e-learning programme.
Throughout our operations, we seek to avoid complicity in human rights abuses, and to uphold relevant international standards.