Join us from October through to January and be a part of a team receiving and storing the grain harvest and delivering it to end use customers in Australia and around the world. We have around 1500 jobs on offer, the majority of which are based at regional sites, and we have some roles available in our laboratory in Adelaide.
Hear from four employees about harvest work with Viterra
Hear more from our employees and harvest workers
We offer
Range of roles including customer facing activities
Supervised team environments
Role based training
Some personal protective equipment required for the role (high-visibility clothing, gloves, glasses and hard hat)
Possible opportunities to travel with the harvest and work across southern Australia
Paid under appropriate Enterprise Agreement/Award rates
Potential for ongoing positions after harvest
Assistance with accommodation is available for some locations
A seasonal harvest role with Viterra may entitle you to extend your stay with an Australian Working Holiday visa (subclass 417 subject to length of harvest and conditions as set out by the Australian Government). We accept and encourage applications from those that are travelling to Australia under an Australian Working Holiday Visa.
Applicants are required to have a medical check before they can be employed which includes a drug and alcohol screen.
Recruitment timeline
The timeline can differ slightly each year depending on seasonal conditions.
Harvest job applications open around July and close once all roles are filled, register your interest in a 2022 harvest job. We offer roles in the following regions:
Western region
Central region
Eastern region including Dooen
Adelaide laboratory
Narrabri (New South Wales)
Adelaide region (Adelaide ports)
Site based roles
General grain handling roles make up the majority of Viterra's harvest work. These roles include a variety of tasks, but mainly involve operating site plant, equipment and machinery. These roles are fast paced, hands-on and require working in a team to help safely and efficiently unload grain from trucks and load grain into our storage facilities.

Our Grain Classifiers spend their time in the classification offices at site. They are responsible for assessing the characteristics of grain to determine its grade. To work this out a classifier performs tests to find out traits of the grain such as moisture, protein, test weight and screenings. Classifiers also manage food safety by checking the grain for contaminants. This is the first point of contact for our customers and the role involves lots of interaction with them.
This role suits people who have a strong eye for detail, computer data entry skills and can work under pressure. Specialist training is provided and a Senior Classifier is present to oversee the process and offer support and help.

Bunker operations revolve around the bunkers that store grain on site. These roles include safely operating equipment to unload grain from trucks, fumigating the grain to prevent pests and directing traffic. Bunker Operators ensure the bunker ground sheets are in place, and the bunker is progressively covered with poly tarps, this role involves a lot of teamwork to complete tasks.

Weighbridge operators are responsible for weighing trucks on arrival and again before it leaves to work out how much grain has been delivered, and recording the weight into our computer system. This customer-service oriented role suits people with good communication, accuracy and computer data entry skills.

Supervisory roles are suited to people experienced in leading a team and or working in an operational environment. A Supervisor will oversee and assist with the completion of tasks while ensuring safety is always the highest priority. Strong communication skills are required for this role.
Laboratory roles (Adelaide only)
Located in our central laboratory in Thebarton, Laboratory Grain Analysts assist with the general examination of grain accepted into Viterra sites using various tests and machinery. The role also involves reporting on related grain analysis and other requirements of the laboratory. This role suits people who have a strong eye for detail, can pick up processes quickly and a prior knowledge of grain commodities is preferred. Specialist training is provided and the role is overseen by a Laboratory Technician.
Our locations and site groups
With 55 sites in our network, find the right place for you.
People who apply for a harvest role are asked to select the groups they would like to work for.
Our groups are made up of a few sites within the same area, the group with the most sites is Tailem Bend group which has six sites.
Each group has an Operations Supervisor who looks after all sites within it.
We have a group structure as it ensures we can provide a high quality, flexible service for our grower customers and creates more work opportunities for our employees.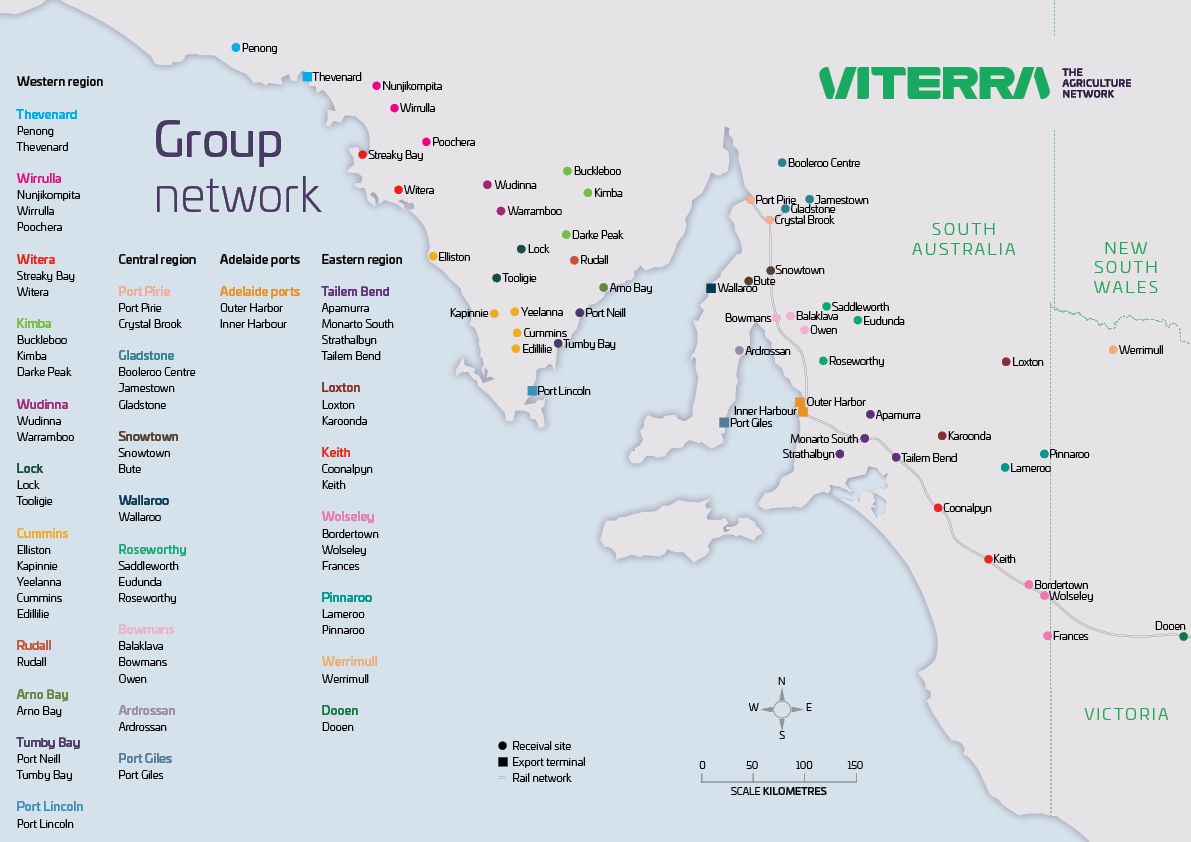 Accommodation
A harvest job with Viterra is a great way to travel to and experience new areas of southern Australia while earning money.
People choose to stay in hotels, motels, caravans, camping sites or Airbnbs. Applicants are required to organise their own accommodation and transport however, subject to availability we may be able to assist with accommodation at Wudinna, Lock, Kimba and Rudall, all located on Eyre Peninsula (Western region), we can also help in finding a place to stay in other regions.
Contact us for more information on accommodation in different regions.
Have you considered working on Eyre Peninsula?

The Eyre Peninsula is renowned for its food culture, wildlife and natural beauty. Activities on the peninsula include swimming with sea lions, dolphins and sharks, whale watching, visiting national parks with sand dunes, hiking in the Gawler Ranges and fishing at any of the many coastal towns.

The Eyre Peninsula is renowned for its food culture, wildlife and natural beauty. Activities on the peninsula include swimming with sea lions, dolphins and sharks, whale watching, visiting national parks with sand dunes, hiking in the Gawler Ranges and fishing at any of the many coastal towns.

The Eyre Peninsula is renowned for its food culture, wildlife and natural beauty. Activities on the peninsula include swimming with sea lions, dolphins and sharks, whale watching, visiting national parks with sand dunes, hiking in the Gawler Ranges and fishing at any of the many coastal towns.
Harvest insider profiles: read about harvest from our employees and seasonal workers.
I gained a harvest casual position with Viterra at Keith for the 2018/2019 season, having previously worked with Graincorp for ten seasons in New South Wales and Victoria. During my first harvest, I operated drive over stackers, and worked at the sheds and silos. I had previous experience with most of the equipment but some variations in control systems meant that I had to draw on the knowledge of colleagues and the support I received was welcomed. I was fortunate to gain ongoing work after harvest. My duties involve most aspects of grain handling including road and rail receivals and outloading, maintenance and cleaning of grain storage facilities, forklift and stacker operations and a host of other tasks.
My role during harvest
For the 2019/20 harvest I was the silo operator at our Tintinara site and, together with a great colleague, we managed to reduce the turnaround time for our growers/carriers considerably resulting in some very pleasing feedback at the end of harvest. Effective interaction with carriers and growers can be very rewarding and by looking after them and each other, we can get the job done safely and enjoy it. The best part of harvest for me is when operations are running smoothly and growers get a quick turnaround, particularly when their window of opportunity to deliver is impacted by weather/fire bans etc. Harvest is our 'Grand Final' so we need to commit to ensure we give our growers the best opportunity to deliver their crops and see Viterra as their preferred point of delivery. Safety still needs to remain the number one priority however, because like a grand final, nobody wants to miss out due to injury.
My advice to new employees
We were all 'new employees' once, consider the potential opportunities in a business of this scale if you perform well, safely and show interest in what is happening around you. Ask questions of those designated as your trainers/mentors particularly in regards to the safety of yourselves and your colleagues. It will probably be hot. It will most certainly be dusty. It may even be itchy but the cheapest talcum powder will fix that. Try to be involved during team meetings. Something you bring to the conversation may make a profound difference to safety, productivity, job satisfaction, customer satisfaction and more.
I joined Viterra as a harvest worker in October 2019, and I'm still working at the Cummins site. I was a backpacker and I was hesitant about completing my regional work because you hear about people having bad experiences. Luckily, I applied for, and got the job with Viterra and it has been great. I would definitely encourage other backpackers to apply and complete your regional work with the company, it will be one of the greatest experiences of working in Australia! Working the harvest with Viterra is great because you meet so many new people from all corners of the globe and have the chance to create many new friendships. I also really enjoy the fast paced environment of harvest, there was little time to hang around as there were always jobs to be done. But for me, the best part about harvest was that I was completely thrown out of my comfort zone, but I wouldn't let that daunt anyone, any time I felt out of my depth there was support from my team mates and guidance from permanent employees. What I learnt very early on is that we are all in it together and, as a team, we can get the job done.
My role during harvest
My primary role was as a 'tarpy' (bunker operations). This involved using large sheets of plastic called tarps and prepping the bunkers that store grain by laying the tarps on the ground. We also covered the grain with another tarp once the bunker was full, and welded the tarps together to protect the grain from the elements. I also worked a few night shifts loading trucks with grain to be transported to other sites. Since harvest ended we've been opening up the bunkers and outturning grain into trucks to be shipped off. Once empty, we clean the bunkers so that they are ready for the next harvest.
My advice to new employees
The advice I would give to new employees is don't be afraid to ask questions. If you are ever unsure about anything then please raise it to ensure you and your team are safe. Safety really is paramount at Viterra, we always spend five minutes before every task to assess the situation to ensure that we can complete it safely. I'd also say enjoy your experience at Viterra. Everyone that works here all seems to share the same view, which is to get the job done but also to have fun while doing it!
I enjoy the super-fast paced environment of harvest. It's a time where our planning requires continual adjustment to meet grower and business expectations and we have to react quickly when faced with challenges. A harvest role with Viterra could be the start of a new and exciting career in an industry you have never thought of. Whether you want to be a returning seasonal worker or you hope to join the business on a more permanent basis, following Viterra's values and ensuring you leave a positive impression at site is a good place to start. Many of our permanent employees began as seasonal workers and have since unlocked career pathways into many different areas of the business such as safety, logistics and management.
My role during harvest
My role is mostly focussed on ensuring all staff have a safe and inclusive environment to work in, and improving the Wallaroo site's grain handling efficiency. When everything is working well, growers can expect great communication from staff and fast turnaround times. My day typically begins with a review of the previous day's receivals of grain, making sure we have enough space to receive more grain in each segregation and a quick check of the weather forecast. Then it's out to the marshalling yard to meet with growers. Throughout the day, I am in constant communication with the Site Supervisor and Leading Hands to ensure we stay on top of everything and have sufficient staff on site. I enjoy seeing employees guide their own small workgroups to meet the overall objective. I find that harvest brings out the best in our staff with everyone being genuinely concerned about our performance and giving the growers the best possible experience. Everyone plays an important role during harvest.
My advice to new employees
Embrace Viterra's safety culture and make sure you ask lots of questions if you are unsure about anything. I think the most important thing is that you enjoy your time at work, this becomes infectious and spreads amongst your work colleagues and improves the grower experience.
I started with Viterra as a harvest worker in 2014, and I enjoyed the experience so returned in 2015 and 2016. For me, the best part about seasonal work was that my school holidays started at around the same time as the harvest, so I was able to keep busy and earn some good money during the break. I also really enjoyed meeting new people, having conversations with growers/carriers, working night shifts and operating machinery. After working the 2016/17 harvest, I was lucky enough to gain a permanent position at Bowmans. Since starting my career with Viterra in 2014, I have been given the opportunity to go through multiple different training courses and can now carry out a wide range of tasks such as operate machinery used to move grain, load trains, fumigate, weld tarps and perform many other jobs.
My role during harvest
My favourite thing about working at Bowmans is harvest time, as it gets quite busy being one of the bigger Viterra sites. I also really enjoy being part of a team and outturning grain via train/truck. As a Leading Hand/Loader Operator, my shifts consist of working in and leading teams, and making sure harvest workers are safe and comfortable operating machines, and assisting them if required. Last harvest I was in charge of the night shift. Night shifts involve covering the grain that has been received into bunkers during the day with large plastic tarps and ensuring the site is set up ready for grain to be received the next day. During a day shift, my role involves helping staff and managing truck traffic to make sure they are moving around the site relatively smoothly and safely. I enjoy chatting to farmers from around the area during harvest and helping harvest workers out when needed.
My advice to new employees
Harvest work is very enjoyable yet a great learning experience. If I could give any advice to new employees it would be to make sure you keep asking questions until you understand how to perform a task correctly and safely.
I first started as a harvest worker in the 2015/16 harvest at our Apamurra site as a classifier. I enjoyed it so much that I returned the following year for the 2016/17 harvest and was then kept on as a permanent staff member. To me harvest is the best time of year. We have extra staff on site and lots of growers and carriers coming through and we are generally busy. I think we have the best bunch of growers and carriers in the Karoonda group, although I could be biased! You're always guaranteed to have a good chat and a laugh with them and that makes the job so much easier. Viterra gives staff the opportunity to learn new skills so I was able to step out of the classification office and learn how to operate plant and machinery, load and unload trucks, and fumigate. I have also become a trainer and assessor, so I am able to train other staff and harvest workers joining the business.
My role during harvest
As the Head Classifier, during harvest I can usually be found in the classification office where we are determining the quality and grade of the grain. I oversee the classifying of grain coming in and provide assistance and support for our small teams of classifiers working in the office, whilst also ensuring we work safely and provide excellent customer service to the growers and carriers. I have enjoyed working at all sites within the Karoonda group between Karoonda, Lameroo and Apamurra. There is a lot of variety and you meet lots of new people. I have also found it is a great way of getting to know people in the community. There is always opportunities for harvest workers to move between sites which is a great learning experience. I joined Viterra as I lived locally and after growing up on a farm and going for rides in the truck to the silos as a kid, it seemed like something I could have a go at. I thought I might have an advantage coming in with a farming background but there was still heaps to learn and with the in-depth training provided it doesn't matter if you've never seen grain in your life, you'll pick it up very quickly.